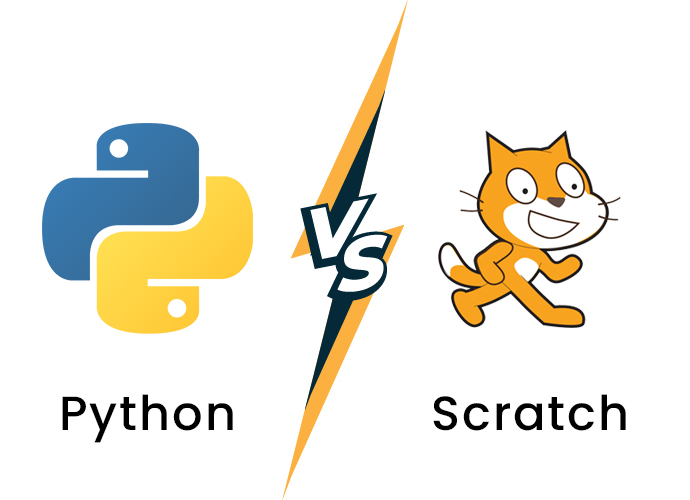 Coding is one of the most extensive subjects out there that can often put kids and their parents in doubt as to where one should start. Two of the most popular coding languages are Python and Scratch. Anyone who begins to learn to code can start with these two languages to get a better idea of what computer programming revolves around.
Both Scratch and Python are easy to learn and simple to code with, which is what eventually makes them the most popular coding languages out there.
But before we get into the Scratch vs. Python debate, let's first get the pressure of finding the perfect programming language off of our shoulders.
Learning to code is a process, and it does not have to be a strained one. When you learn to code, you are essentially taking on a journey that is full of opportunity and new ideas. Focus on getting positive early experiences so that you remain encouraged throughout the journey.
With that being said, let's take a look at some of the key differences between Python and Scratch:
Complexity
Compared to Scratch, Python is a much more complicated programming language. Scratch is a block-based programming language that is specifically developed for kids. Python, on the other hand, is a full-fledged computer programming language that is used by major companies around the world to develop websites, apps, and other interactive digital elements.
Applications
It is important to introduce your kids to project-based learning. Both languages offer project-based learning opportunities to kids but before you get your kids into it, make sure to ask them about their interests.
Scratch allows kids to create awesome arts and games. Using Scratch, kids can create a game sprite. Kinesthetic learners can use Scratch to work with VEX robotics and have a hands-on approach to get better at their interests.
Python has a multidisciplinary and potentially endless project-based learning opportunity. It is used at both intermediate and professional levels of coding, making Python one of the most versatile coding languages.
Python can be used in game development, AI, Machine Learning, and cryptography, to name a few applications.
Length of Project
The amount of work that kids have to put in each language to see the results differs drastically.
Python is more of a long-lengthed programming language that can often take weeks and even months to complete a project. If your kids have an analytical mind and like to solve logic puzzle games, Python can be a great start for them.
Kids who prefer a more visual approach and interactive UI should consider starting out with Scratch. Scratch is instantaneous in its approach. You can see the results of your action right on the screen as soon as you make a move. Scratch also comes with various interesting and interactive elements that can keep your kids engaged.
Which Language Should Your Kid Learn First?
The language you should get your kids to learn depends on their interest and their age. If your kids are in their early years of development, Scratch can be a great stepping stone for them.
On the other hand, if your kids are a bit mature and are well-versed with computers, Python should be the right choice.
Both Languages have Enriching Online Resources
Both Python and Scratch have a sea of resources that can help learners get better.
Scratch has a vast range of tutorials and educational resources that are free to access and make use of. Python too has a well of educational resources that can be found on sites like Udemy and Codecademy.
So whether your kids want to start with visual-based computer programming or intriguing text-based coding, they can have a range of online support to help them get better and grow more competent.
Conclusion
Both Scratch and Python unlock a sea of potential for your kids and can inspire them to keep learning more.
Once they get started with either of these languages, they can have limitless opportunities at their disposal with ever-present encouragement and support by their side.