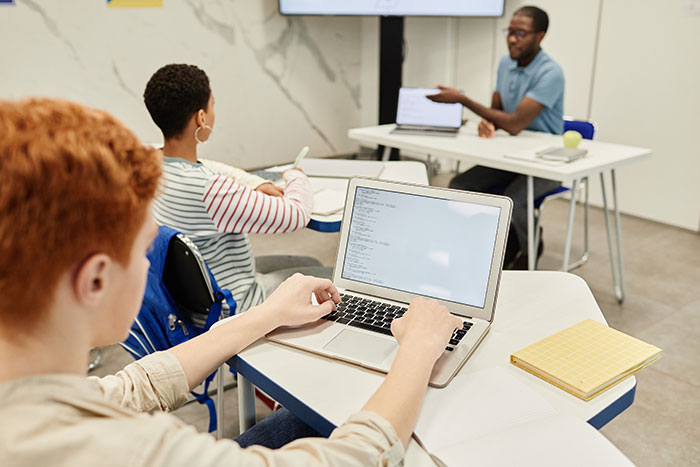 Digital users are growing tenfold every day, thanks to the never-ending expansion of the internet. The world wide web has become not only a way to learn but also a way to explore new things and connect to people around the world.
In such a dynamic world, the privacy of children could be a matter of concern for most parents. After all, how do you keep your kids from accessing harmful and problematic websites when there are tons of them online.
Well..the good news is that it is quite easy to keep your kids safe online.
We are talking about coding. When kids learn to code they are invested in building websites and apps from scratch and mostly focus on websites that could teach them more about it.
But there are a few more ways coding helps kids to stay safe online. Let's take a look at a few of them:
How can coding help keep kids safe online?
With coding, kids learn to stay safe because they know what sort of consequences a particular action can bring online. For instance, a coding student would most likely avoid visiting a shady website because they would be able to identify the issues with it.
Young children who are learning to code understand the ways of the internet better and therefore are safer from accessing dangerous websites.
For instance, a child who knows to code is aware of URLs, HTTPS, TLDs, etc which can help them detect phishing and malicious sites.
You can also teach your kids to:
Identify if a post, comment, or website is malicious
Keep away from cyberbullying
Create private accounts that are difficult to track
Use a VPN.
Restrict online conversation with strangers.
Identify ads and avoid interacting with them.
When should you teach your kids to code?
There is no standard time for introducing coding classes for your kids. We suggest you get your kids started with coding as early as possible so they can learn as much about computer programming as they can. The sooner you introduce them to the world of coding, the better it is for them.
Coding is diversified and comes in a range of forms. For instance, if you are getting your kids started with coding, you can introduce them to the gamified coding options available all across the internet. For kids who have had some experience in coding, there are intermediate and beginner courses that focus specifically on the core of computer programming.
What if my child starts participating in hacking?
Hacking is not necessarily evil. But we get your concern. But when you are teaching your kids, you have to let them go a little and explore on their own. If you keep stopping them every step of the way and ask them to not do certain activities, chances are they would lose interest in the coding altogether.
Instead of chiding your kids for showing an interest in hacking, show them the positive side of the art. There are a number of security jobs available for people who learn to code and hack and are willing to work for the security of other companies.
In the meantime, keep track of who your kids interact with when they are learning online or playing games like Roblox and Minecraft.
Make sure to not be too strict with them. Teach them the good and bad of the internet and let them learn everything on their own.
Conclusion
Getting your kids started with computer programming is one of the best things you can do for them. Computer literacy will not only help them stay up to date with the latest technologies, but it will also help them find their passion and work towards it.
So, get them to learn to code and give them the freedom to explore the world of coding and computer programming.